«« •÷• »»•«« •÷• »»•«« •÷• »»
News!
Bob Hein & I (Donna Hein), are very excited to tell you we have received a bid from a professional contractor to groom both arenas twice a week, and use the water wagon to water both arenas.
Bob has been looking for a professional groomer for over a year. He feels that Fred is the most qualified person he has talked too.
Bob presented the details to the Board at the Oct. Board meeting, and in November the Board voted to hired Fred to do the grooming for 1 month on a trial bases.
We would like to invite you to come ride in the arenas and see what you think of the footing. We are very impressed with his work.
This was something the membership was very concerned about when I presented the arena renovation plan to the membership on July 28, 2016.
The membership asked the Board to hire a professional groomer, and not to be dependent on volunteers for the maintenance of these arenas.
«« •÷• »»•«« •÷• »»•«« •÷• »»
Join Us for the following
events, shows and clinics!
(See Show page for more details)
«« •÷• »»•«« •÷• »»•«« •÷• »»





Trick Training


Clinic


With Jody Childs
December 2, 2017
Cost = $85.00
Audit = $40.00
Entries close on Nov. 23rd (Thanksgiving) for Members.
If the clinic is not filled, it will open to the public on Nov. 24th.
Gate opens at 8:00 AM
Clinic Time 9:00 AM to 3:00 PM
Lunch will be a Potluck ~ Please bring something to share!
Jody has been seen on RFD-TV and HRTV on Equestrian Nation, Charles Wilhelm's Ultimate Superhorse challenge and America's Favorite Trailhorse.
Learn a NEW form of communication with your horse!
Trick training is fun and bonds you with your horse!
They learn "yes" with positive reinforcement!
The possibilities are endless!
All participants must sign a Release of Liability form, and mail with your entry form and check to Vista Palomar Riders.You will receive confirmation for the Trick Clinic.
Download: Flyer
Download: Entry Form
Download: VPR Liability Release Form -Required for Everyone!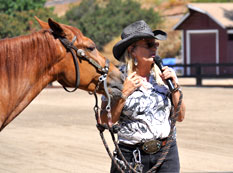 «« •÷• »»•«« •÷• »»•«« •÷• »»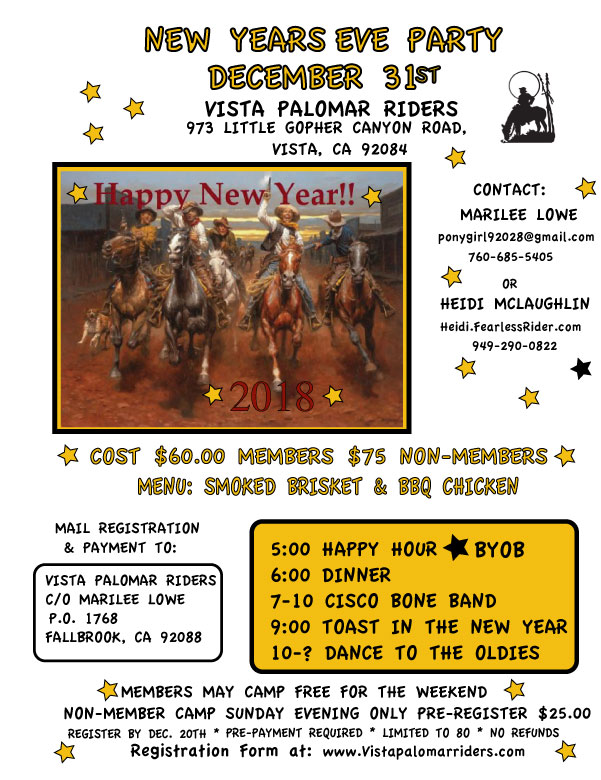 New Years Eve Party
December 31st @ VPR
Cost = $60.00 Member
$75.00 Non-Member
Menu: Smoked Brisket & BBQ Chicken
Happy Hour 5 to 6 * BYOB
Dinner 6:00
Band Play 7 to 10 (Cisco Bone)
Dance to the Oldies 10 - ?
Members can Camp Free all Weekend.
Non-Members may Camp Sunday night only Pre-register $25.00 camping fee
Register by Dec. 20th

For details:
Download: New Years EveFlyer
Download: Registration Form
«« •÷• »»•«« •÷• »»•«« •÷• »»